If your MP5's magazine is on its last legs (which wouldn't be surprising if you've put tens of thousands of rounds through it) then you basically have two choices.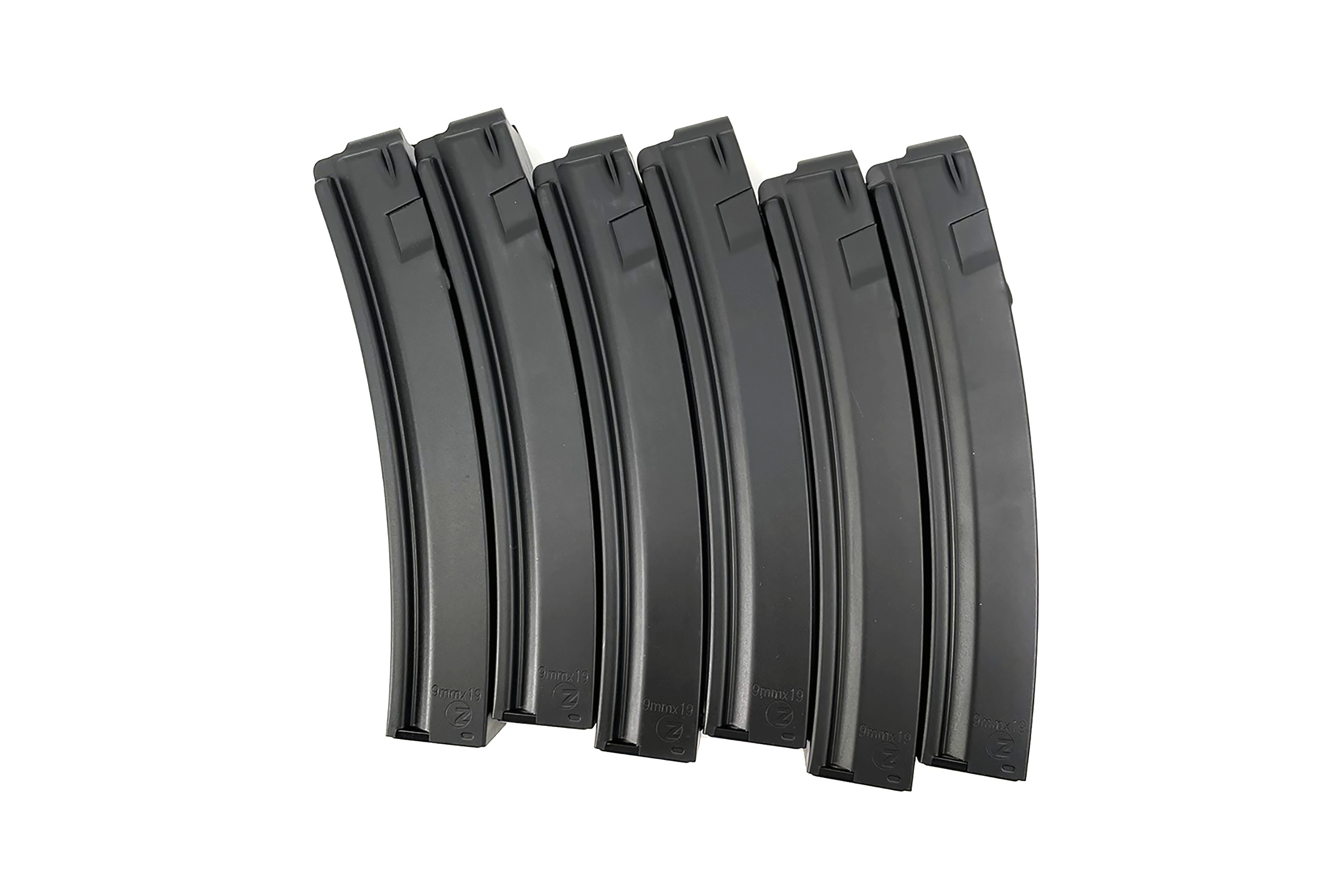 Replace the magazine spring or just replace the magazine. It's always worth it to replace the whole thing just so you have a spare (or a few) in your range bag – and Zenith Firearms is the place to get it.
Price, Quality, Durability, and Value
Don't be fooled by polymer-bodied MP5 magazines with attractive, low price points. Polymer might be corrosion-resistant and relatively strong, but there's just no replacement for all-steel construction.
Zenith Firearm's MP5 magazines feature all-steel construction at a fairly affordable price (plus you can bundle and save, see below).
They're also highly durable, and while even a durable magazine will still require routine cleaning and maintenance, starting with a high-quality version will set you up for longer mileage.
Their ZF-5 MP5 mags feature an electro-plated black finish that is not only easier to wipe clean; it's also corrosion-resistant. Just keep excess fouling off these mags and they're good to go.
They also feature a number of other remarkably durable components. For instance, they include stainless steel followers, which are corrosion-resistant and much stronger than plastic followers.
These mags also feature reinforced feed lips, which is a bonus since feed lips are prone to wear and deformation, and when they are damaged, often replacing the magazine is the only way to make a fix.
Their ZF-5 MP5 magazines also feature a high-tensile strength compression spring for extra strength, reliability, and longevity. These mags have all the keys to smooth, reliable feeding.
In addition, they also feature a unique feature that offers a lot of value and is shooter friendly: a set of round count indicator holes along the rear of the magazine.
No more guessing at an empty chamber, and no more dry fires – instead of keeping a mental spreadsheet in your head, these mags let you know when you're low on ammo.
Platforms Supported
Possibly the best part of these ZF-5 magazines is that they are compatible with multiple different platforms.
Though they're expressly designed for the Zenith Firearms ZF-5, due to that platform's likeness to the HK MP5, they are also compatible with the MP5, SP5, HK94, MP5K, SP5K, SP89, MP5SD, as well as the ZF-5, ZF-5P, ZF-5K, and other roller-delayed blowback firearms.
And, the people at Zenith Firearms know that one spare magazine is hardly a replacement. If one is none and two is one, then a bunch is better. You can buy these magazines bundled in 6 packs and save substantially.
Check Out Other MP5 Parts at Zenith Firearms, Too
If you visit ZenithFirearms.com looking for a new MP5 magazine, don't overlook their other collection of MP5 parts and accessories, including one-point slings, stocks, cases, barrels, bolt components, muzzle devices, thread protectors, and internal hardware and components.
If you have any questions about what they carry (or about platform compatibility) consult their product specifications or get in touch with their customer service at [email protected]